Sewing
This three-course instruction is lead by many of our volunteers. Students learn how to sew simple straight lines on a quilt and work their way up to more advanced products. Students receive certificates upon completion of each course.
Beginners - Thurs 9am-12pm
An eight week course that teaches basic sewing skills, sewing related English vocabulary, and the basics of retail selling.
Intermediate - Mon, Wed, Fri 9am-12pm
A class that continues with more advanced sewing techniques and more ESL.
Advanced - Mon, Fri 9am-12pm
A third level where students have met our quality standards and are encouraged to make artisan items to sell.
Knitting
We welcome all levels and work on projects that include both knitting and crocheting techniques. Knitters create items such as scarves, shawls, beanies, yoga socks, infant booties, and more.
All skill levels welcome - Tuesdays, 9:30am-12:30pm
Jewelry Making
This class was initiated by one of our very own refugee-artisans! Thanks to a large an on-going donation of jewelry making supplies our students have been exposed to the world of beading and have been making beautiful accessories ever since.
Bookmaking
Lead by one of our volunteers, students learn how to cut and bind pages to create beautiful books and journals that make perfect hand-made gifts.
Want to join our classes?
Did you know!?
Artisans are paid 75% of the sales price from each item they make and sell. Money earned is considered supplemental income as a part of our training program.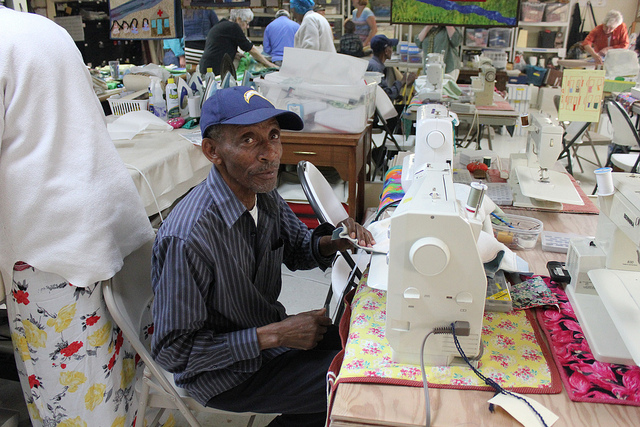 Hours of operation
Monday - Friday 9:00am - 12:30pm
In March of 2013 we moved from one great work space to another thanks to our supportive partners.
A heartfelt thank you from the students and volunteers of Artisans For Hope to Steve West at Centra Consulting and Tom and Barbara Mannschreck at Thomas Development Co: you have given us space; sponsored our facility and utilities cost; and have been terrific neighbors.
Thank you!